Professional Pet Grooming in Escalon, California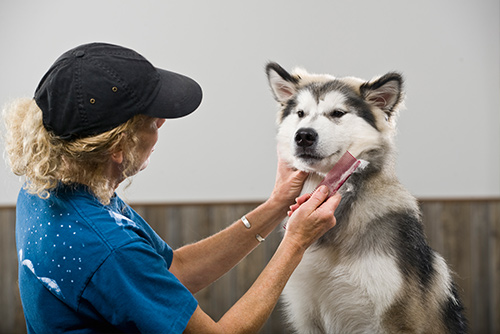 Clean, Clear and Tidy
Our professional grooming is customized to your beloved pet's needs. From the full-service package to a quick or routine trim, our cleanliness assistance helps your pet look and feel their best every day of the year.
Bathing, Shampooing and Drying
Ensuring that your pet's skin and coat remain healthy prevents disease, improves their appearance and boosts their (and your home's) hygiene. We care for skin conditions with personalized products.
Trimming and Cutting
Attention to your pet's eyes, hindquarters, mouth area and places on their body which are prone to matting and build up keeps them comfortable, safe and free from loose hairs that can clutter your home.
Teeth, Eye and Ear Care
We will inspect your dog or cat's ears, eyes and teeth since diet, droopy ears and particle accumulation in their eyes can all affect their health. This safeguards their vision, hearing and oral cavity.
Comfortable and Relaxing Environment
A reassuring atmosphere is important to keep your small animal companion calm and refreshed during their grooming service. To keep them and our staff safe, we go the extra mile to create a setting that is risk- and hassle-free.
How Often Does My Pet Need Cleaning?
Well, how often do you need to be cleaned? Just like gunk and grime can build up on our human bodies, your beloved dog or cat accumulates dirt, particulates and other debris from their explorations, being close to the ground and having dust-attracting fur.
Depending on your pet's lifestyle, they should receive professional grooming at least once a month, perhaps more often if they are frequently outdoors. Not only will this prevent disease, but it will also keep your home more hygienic and safe for your loved ones.